TITLE: MATE WITH BENEFITS 2/?
AUTHORS: Kitty-Trio and Rufferto
EMAILS: nd kittyTsapphire@yahoo.com
SUMMARY: A long time ago, Craig and Karl were young men. They first met on Shortland Street, and at the time, they had no idea what was happening to them. It was just Lust, right? Why then did it hurt so much?
DISCLAIMER: We don't own Craig Parker and Karl Urban and are not making any money from this fic. We don't claim this happened. We don't know Craig Parker or Karl Urban or their sexual preferences.
AUTHOR'S NOTE: Angela Marie Dotchin played Kirsty Knight. Stephanie Wilken played Dr Meredith, Guy's original lover. Kitty Trio writes for Karl and Angela, and Rufferto writes for Craig and Stephanie.
Out in the cold, with a love that burns like the sun
You've stolen my soul, so justice would seem to be done
So we hope and we pray and we live and we learn
If we know where we are then we know where to turn
In time, maybe persuasion is all that you need
-Def Leppard "Love don't lie"
CLICK HERE FOR PREVIOUS CHAPTERS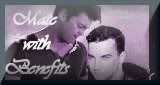 (
Read more...
Collapse
)